When Nayanthara turned into a professional cook for 'Annapoorani'
Actress Nayanthara remains synonymous with earnest hard work and dedication when it comes to breathing wholesome lives into her respective characters onscreen. Undoubtedly, she remained an adorable icon for more than a couple of decades for this radically distinctive nature. The actress, yet again, exhibits her acting prowess in her upcoming movie 'Annapoorani'- The Goddess of Food, directed by Nilesh Krishnaa, and produced by Zee Studios, NAAD SStudios & Trident Arts, which is all set for worldwide theatrical release on December 1, 2023.
Since the film revolves around the world of Cooking, the actress made sure that she gives her 100% best for her role as chef. The team had a real chef on the sets during the cooking sequences to give the inputs. Actress Nayanthara was humble enough to take the inputs, and she performed even the minute cooking nuances like Pan flipping, Tossing, and many more that are owned as perfect traits of a chef. The team affirms that there isn't a single cheating shot and Nayanthara has performed it without any dupes.
Since the film is made on a grand scale and many contents had to be filmed, Nayanthara stayed on the sets even during the lunch and dinner breaks without stepping into the caravan. Actress Nayanthara is well-known for her professionalism, and here's something that left everyone awestricken on the sets of 'Annapoorani'. There was a particular occasion, where she had some personal commitments planned after shooting. What was supposed to get over by 10 p.m. got extended till 12 a.m. midnight. When the crew informed her that the shooting could be continued the next day owing to her personal work, she decided to stay back and get the shooting done, since the setup was grand, and important sequences were to be filmed. Finally, she stayed till early morning 5 a.m. to complete the sequence.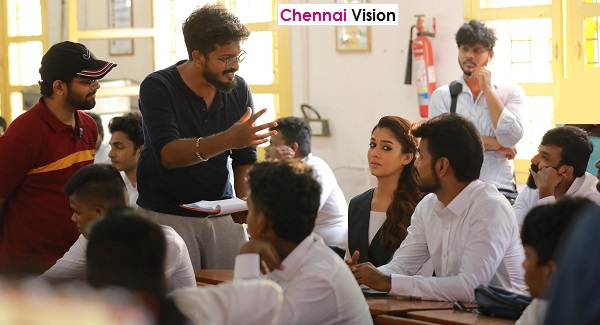 The entire team of 'Annapoorani' is raving about the discipline, dedication, and professionalism of Lady Superstar Nayanthara, which they believe has inspired them vividly.
The film features Jai, Sathyaraj, KS Ravikumar, Redin Kingsley, Achyuth Kumar, Kumari Sanchu, Renuka, Karthik Kumar, Suresh Chakkaravarthy, and many others as the pivotal characters.
Thaman S is composing music, Sathyan Sooryan is handling cinematography and Praveen Antony is overseeing editing works. G Durairaj (Art), Arul Sakthi Murugan (Dialogues), Prashanth S (Additional Screenplay), Sanjay Raghavan (Creative Producer), Linda Alexander (Executive Producer), Venky (Publicity Designer) and Suresh Chandra-Rekha D'One (PRO) are the others in the technical crew.