Indian Bank announces its Q2 FY2024 results | Net profit up by 62% YoY
Financial Results for Quarter/Half Year ended 30 th September 2023
Bank's Global Business reached ₹11.33 lakh Cr
Net profit up by 62% YoY, Operating Profit up by 19% YoY
● Net Profit up by 62% YoY at ₹1988 Cr in Sep'23 from ₹1225 Cr in Sep'22
● Profit Before Tax up by 75% YoY at ₹2752 Cr in Sep'23 from ₹1571 Cr in Sep'22
● Operating Profit for Sep'23 up by 19% YoY at ₹4303 Cr from ₹3629 Cr in Sep'22
● Net Interest Income increased by 23% YoY to ₹5741 Cr in Sep'23 from ₹4684 Cr in Sep'22
● Fee based income grew by 11% YoY to ₹805 Cr in Sep'23 from ₹723 Cr in Sep'22
● NIM (Domestic) increased to 3.52% in Sep'23 from 3.20% in Sep'22
● Return on Assets (RoA) improved to 1.06% in Sep'23 from 0.71% in Sep'22
● Return on Equity (RoE) improved by 607 bps to 19.90% in Sep'23 from 13.83% in Sep'22
● Cost-to-Income Ratio stood at 44.36% in Sep'23 as against 44.27% in Sep'22
● Total Business recorded a YoY growth of 10% reaching the level of ₹1133091 Cr in Sep'23 from ₹1026801 Cr in Sep'22
● Advances increased by 12% YoY to ₹492288 Cr in Sep'23 from ₹437941 Cr in Sep'22
● RAM (Retail, Agriculture & MSME) advances grew by 12% to ₹285891 Cr in Sep'23 from  ₹255256 Cr in Sep'22
● Retail, Agri, MSME advances grew by 14%, 16% and 5% YoY respectively. RAM contribution to domestic advances is 62%.
● Home Loan (Including mortgage) grew by 13%, Auto Loan by 36% and Personal Loan by 49% YoY.
● Deposits increased by 9% YoY and reached to ₹640803 Cr in Sep'23
● CASA grew by 7%, driven by 8% YoY growth in SB, CASA ratio stood at 40%
● GNPA decreased by 233 bps YoY to 4.97% in Sep'23 from 7.30%, NNPA reduced by 90 bps to 0.60% from 1.50% in Sep'22
● Provision Coverage Ratio (PCR, including TWO) improved by 456 bps YoY to 95.64% from 91.08% in Sep'22
● Capital Adequacy Ratio stood at 15.53%, CET-I at 12.07% & Tier-I Capital at

● Net Profit up by 16% QoQ to ₹1988 Cr in Sep'23 from ₹1709 Cr in Jun'23
● Profit Before Tax up by 15% QoQ at ₹2752 Cr in Sep'23 from ₹2394 Cr in Jun'23
● Operating Profit up by 4% QoQ at ₹4303 Cr in Sep'23 from ₹4135 Cr in Jun'23
● Net Interest Income stood at ₹5741 Cr in Sep'23 as against ₹5703 Cr in Jun'23
● Return on Assets (RoA) improved by 11 bps QoQ to 1.06% in Sep'23● Return on Equity (RoE) improved by 202 bps QoQ to 19.90% in Sep'23
● Priority Sector portfolio stood at ₹164341 Cr in Sep'23. Priority sector advances as a percentage of ANBC stood at 42.83% as against the regulatory requirement of 40%
● Profit Before Tax up by 76% YoY to ₹5146 Cr in H1FY24 from ₹2917 Cr in H1FY23
● Operating Profit increased by 17% YoY to ₹8437 Cr in H1FY24 from ₹7194 Cr
● Net Interest Income grew by 24% YoY to ₹11444 Cr in H1FY24 from ₹9218 Cr
● Net Interest Margin (NIM) Domestic increased by 42 bps YoY to 3.57% from 3.15% in H1FY23
● Return on Assets (RoA) improved by 29 bps to 1.01% from 0.72% in H1FY23
● Return on Equity (RoE) increased by 490 bps to 18.90% from 14.00% in H1FY23
● Cost-to-Income Ratio stood at 44.29% as against 43.14% in H1FY23
Network:
● The Bank has 5819 domestic branches including 3 Digital Banking Units (DBUs), out of which 1974 are  Rural, 1522 are Semi-Urban, 1174 are Urban & 1149 are in Metro category. The Bank has 3 overseas branches & 1 IFSC Banking Unit (IBU).
● The Bank has 4866 ATMs & BNAs and 10825 Business Correspondents (BCs).
Digital Banking:
● Mobile Banking users increased by 47% YoY.
● UPI users and transactions increased by 34% YoY and 65% YoY respectively.
● Bank has so far launched 63 Digital Journeys under its Digital Transformation Program.
● 86% of transactions are now carried out through digital channels.
Our Focus:
Indian Bank is strategically expanding the business and major thrust will be on retail, agriculture, and  MSME sectors, targeting 10-12% credit growth in FY24.
Embracing digital banking as our core focus, we are dedicated to fostering financial growth and prosperity  for individuals and businesses across diverse sectors of society. Through constant innovation, we strive to simplify processes, enabling quick and convenient banking.
For overall organisational development, Bank is promoting gender diversity, skill onboarding & grooming the employees for leadership. Our team engages with clients to provide hassle-free banking experience through wide range of products and services.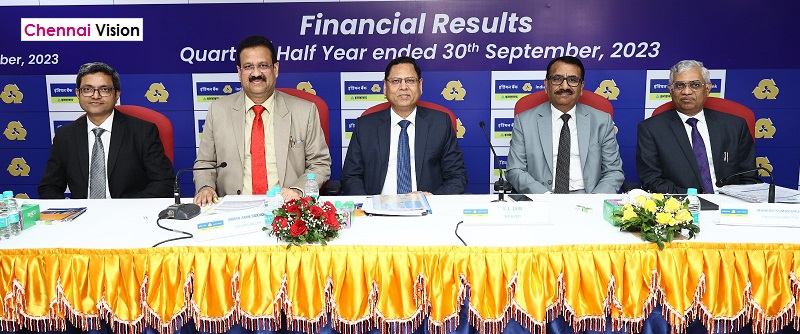 Press Release – Indian Bank Q2FY24 Results
vrcs