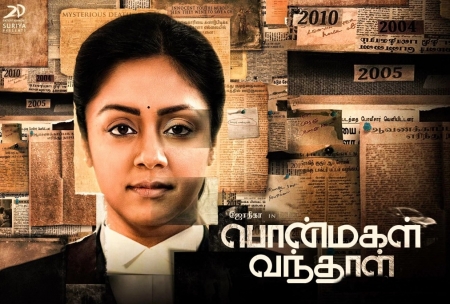 Ponmagal Vandhal – Law law land
STORY:
In Ooty, Jyothi, a north Indian woman, is a psycho killer who abducts and murders young gils. She also murders a couple of young men who are trying to rescue a girl whom she had kidnapped.
Finally, the police catch her in Tiruppur and eventually finishes her off in an encounter operation. After 15 years, Petition Pethuraj (Bhagyaraj), known for filing petitions against petty scams in the locality, moves the court to reopen Jyothi's case.
His daughter Venba (Jyotika), a rookie lawyer, appears in support of Jyothi. She has to face the most talented criminal lawyer Rajarathinam (R Parthiepan), while the case is heard by a principled Judge (Prathap Pothen).
Parents of the girls who were 'murdered' by Jyoti were shocked to know that the case is reopened, for they hate her to the core. Even more shocked is a leading businessman and do-gooder Varadharajan (Thiyagarajan). Who is Venba? Why she is reopening a closed case after 15 years? Why is Varadharajan shocked?
ANALYSIS
By deciding to release Ponmagal Vandhal straight on digital platform (Amazon Prime) rather than in theatres, the makers of the movie (Suriya and Jyotika are its producers) have made a right choice, we must say.
For, the film is more television or web-series material than a feature film. Jyotika is back to her 'Female Samuthirakani' mode by getting preachy in some of her dialogues. At the same time, the film directed by J J Fredrick offers some interestsing twists too, besides carrying a much needed message.
Jyotika carries the film on her shoulders and she has dubbed lengthy Tamil dialogues on her own. Parthiepan adds value to the movie with his performance, especially body language and dialogues.
While Prathap Pothen and Bhagyaraj are okay, the likes of Pandiarajan and Thiyagarajan have been wasted. Ramji's cinematography has aptly picturised the intense mood of the film, while editing could have been sharper.
On the whole, despite its cons, Ponmagal Vandhal is an intense court-room drama. It could have joined the list of Ajith-starrer Nerkonda Paarvai had there been more craft and interesting storytelling instead of preachiness.
Rating: 3 out of 5